Burn. It. Fitness. Where do I begin!?
I started this journey alongside my Dad, Graeme and my boyfriend, Craig back in May 2018. It seems as though we've been loving Burn It for so much longer than that!
I personally have been down so many avenues in regards to my weight but I can tell you, no word of a lie, Burn It has blown each & every one out of the park and I wish we had all started it sooner!
The support, the workouts, the locations, the socialising and the banter is just phenomenal & this is what makes exercise enjoyable and an amazing, exciting part of life! I no longer look at exercise in a negative way. The wee b*gger of a demon in my mind which used to control my view on being healthy & exercising has now been silenced, which has allowed me to push myself at every Burn It Class and enjoy the challenges the Burn It instructors bring throughout the week. I cannot imagine life without it now!
When I started with Burn It Fitness, I would never have thought I would be where I am now & this is all thanks to the support throughout the Burn It family & I never would have thought I would have the courage to sign up to a 10 week "Body Transformation +" programme to kick start 2019, never mind bloody winning the full programme!!! WHAAAAAT!?!?!
Walking into the welcome night for the Body Transformation with my Dad & Craig back in January, I felt very excited but I was extremely anxious at the same time. I remember feeling like a huge spotlight was on me walking in, thinking to myself "I'll be the largest here. I'll be the slowest. What's everyone going to think? I can't do this". This is a prime example of the old demon talking and controlling my thoughts. As I know having been to Burn It for around 8months by that point, there is absolutely no judgement at the classes at all and everyone is there for the same reason; to improve their lifestyle and to fight through the barriers, whatever they may be, to better ourselves one step at a time at our own pace. So why I was thinking this at the time beats me, it was silly to be honest and shows how impactful my mind was at the time. I was so nervous & scared I wouldn't be able to complete the 10 weeks.
As soon as Paul started his presentation that night, I just felt a new sense of pride of the three of us, and everyone else there for even considering embarking on such a positive challenge ahead & my mind turned a new page, as silly as that sounds. The motivation from the welcome night was incredible, my anxious feelings disappeared completely and I was so looking forward to what the 10 weeks would bring to me not just physically, but most importantly, mentally. The nutritional advice, the workouts, the FUN! The extra push from weekly emails from Paul, group interaction on social media and the Sunday morning sessions (yes, Sunday mornings!!!!!) really helped me stay focussed and made me realise how heavy and dangerous my mind can be. It can take the slightest thing for my mental demon to persuade me that I can't do something, to tell me that I'm useless or 'why are you even bothering Gaynor?' – but the thing is, it's taken a good while for me to learn to silence that demon and to push through it's detrimental, strong words. Don't get me wrong, it's still there and I think it always will be but not to the degree it once was. The mental limits I have previously reached aren't there as regular as they were. I don't have the negative mentality now of exercise & I enjoy pushing myself and feeling my body work hard! The feeling of knowing my muscles are being worked to their max & I'm sweating my eyebrows off (LOL), is weirdly incredible!! Don't get me wrong, I've mentally swore at the instructors a fair few times and thought "Buck The Furpees!!" ha! But all in good nature I promise!! It's just a fab, fresh feeling & helps clears your mind at every single session. It allows the negative thoughts to slowly break off for good and creates a brand new strong and raw sense of life that you never want to let go of!
For someone who has always relied on food to help me mentally (which I thought was one of the only options at the time to make me feel better) and who was a huge comfort eater, did not realise how vicious that cycle was. For me, I would turn to food for anything. If I felt down – food. If I had a crap day at work – food. If I was really struggling with life's circumstances – food. If it was raining outside – food. If I was bored – food. Any excuse or opportunity to eat, I would! It used to comfort me in any aspect of life and got to the stage where I had to have a piece of food beside me at night whether that was a biscuit, chocolate bar, crisps or anything in case I had that craving I had to subside!!! The emotional relationship I had with food was scary! Writing this and looking back to how I used to be, makes me so disappointed in myself and feels as if I'm not describing me, but I just didn't have the strength to stop being comforted by food. Step by step over the years, before I started Burn It I managed to disconnect from the 'secret stashes' of food in my room or eating for the simple sake of eating. But the 10 week programme with Burn It has allowed me to dig deep and finally break away completely from that emotional connection with food & I now see food as a 'fuel', not something to 'treat' myself with. I've learned now that I was only treating my taste buds, not my body & health; which is way more important!!
I feel like a brand new woman having completed the 10 week programme, in fact having started with the Burn It family back in 2018. It has made me want to analyse every avenue of my emotional triggers, my "go-to's" so I could improve my health for good. It's brought so much fun & laughter to my life and has brought so much determination out which has been hidden away for a good while now, pining to show again to show myself; I've got this!
I'm not one to openly say I'm proud of myself, I very rarely say it. I'm so self-critical it's unreal! But Burn It has given me the confidence to actually say, I. AM. PROUD. OF. MYSELF!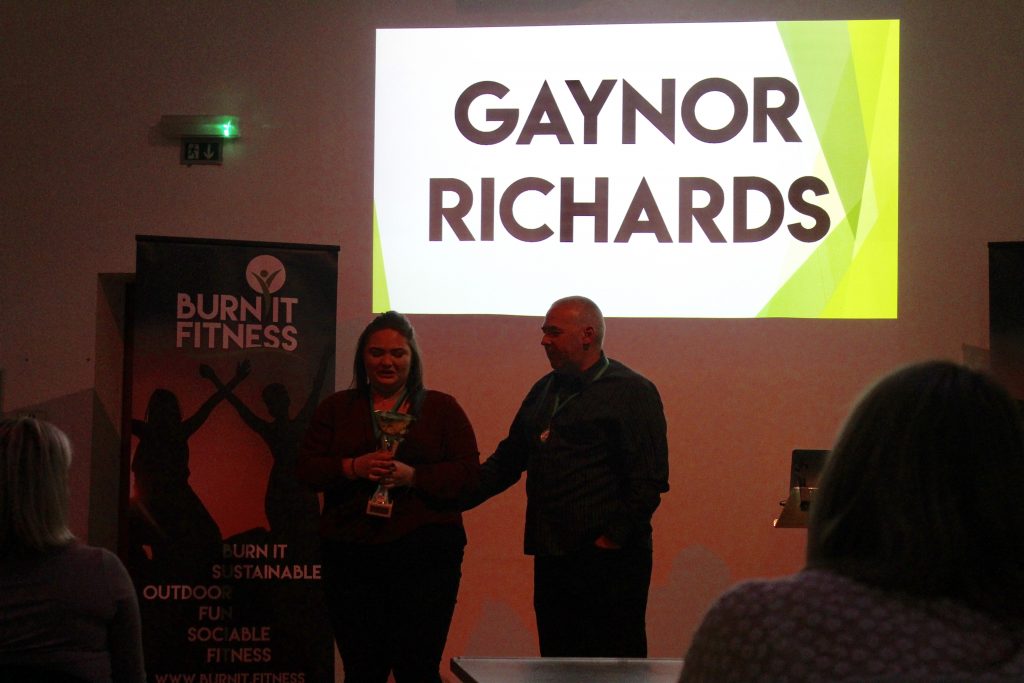 I cannot believe I won Body Transformation + 2019 & the fact my auld man, Graeme ("big G" to me, as I'm the "wee G"!) presented me with this award is something I will never, ever forget. It meant the absolute world & I kept my promise by drinking prossecco out of the cup!!!! It should've been gin mind you! That evening was truly special to me and made me realise, I can do this. I can do whatever I put my mind to & it's made me set myself goals for the future – one being the 10k Rough Runner in August with the Burn It clan! Before I wouldn't of dreamt to sign up for something like this, but I'm super excited for it and can't wait to celebrate the achievement!
For anyone struggling or on the fence whether to try Burn It, DO IT! It's incredible. No judgement. No FADS. No gym posers. Real people. Fresh outdoors. Real goals. Real success stories. We are all in this together and we can reach our own goals, no matter how big or small. Take the leap! I promise you, you will not regret it!
One step at a time, we can conquer our demons & show them who's boss!! Here's to many more goals set, reached & challenges ahead! Here's to never giving up.