Thank goodness I came across Burn It or not sure where I would be right now fitness wise. Probably sitting on the couch still trying to motivate myself to go for a run!
I came across The Burn It Revolution when I needed a kick up the backside to get myself out the door and motivated to improve my fitness levels and lose a few extra lbs. I had a gym membership that I was paying for every month but hated stepping into the gym environment, that awful music, the realising I had forgotten my headphones or water bottle. The wanting to walk back out the door 20 minutes into a session. 
I was definitely more drawn to a class type session with an instructor putting me through my paces, so there was no going home 20 mins into the session! I hated the gym classes though, classes were always squeezed into a small hall, with repetitive sessions, pounding music and bright lights to see my wobbly bits!
I started the Burn It Revolution back in August 2018, and WOW loved the first class. It was at Linlithgow just in front of the palace, with the loch as a back drop on a gorgeous sunny summers evening. The class was a 1hr set off circuits with a group of 40 or so like minded people. Never laughed so much and was surprised at how sociable it was compared to going to the gym. Everyone was chatty and supportive, who knew you could be motivated by all the other people working out along side you. Total strangers become your fitness buddies all in it together pushing each other on and encouraging each other To keep going.
That was me, caught the Burn It bug from then on, would never look back to going to the gym now. 
Burn It has taught me that no one is at the back, everyone is there to improve themselves and regardless of your fitness levels, everyone is pushing themselves hard in every session to get what they're need out of it. I love training outside, yes even when it rains. Although it never rains for long, always worse through the window as the Burn It mantra goes. Just wrap up and get out there.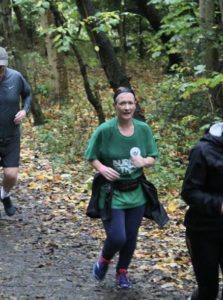 I got married in July 2019 and my main goal was to maintain my fitness level, and keep the fat lbs off based on the results that the transformation programme gave me. It's not about the scales and weigh ins, it's about how fit you feel and how you feel in your clothes. Managed to get into that Wedding dress, and even had a wee panic when the seamstress needed to take it in again so close to the wedding date.  Felt amazing on the day, all the hard work of 2-3 classes a week had paid off and helped with my motivation to get out there and keep me motivated to run outside of the Burn It sessions.
There is an unofficial Strava and Facebook group set up by folks that attend classes, where everyone shares their experiences, food tips and generally keep the groups motivation going to get out there to chase our goals. They are all a great supportive bunch to train alongside. 
Looking forward to 2020 sessions at Beecraigs, Howden and Linlithgow. Biggest thanks to the Burn It team Paul, Julie-Ann, Marcella and Becky for making the sessions so fun, sociable and for keeping us focused on our goals by putting us through our paces at each session 👍